Tour to Sekumpul Waterfalls
Bali is known for its mesmerising landscape and a tour to Sekumpul Waterfalls will help you to understand why. The waterfalls will take your breath away and our tour will allow you to explore all you want. You will experience the waterfalls in all their glory.
In one day you can see all seven waterfalls. Located on the north side of Bali, the waterfalls are classed as the most beautiful in the country.
Serenity and beauty – a real heaven on earth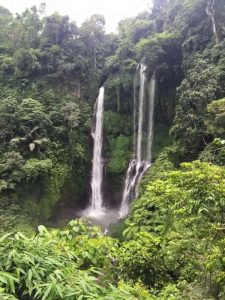 The waterfalls are a must-see and the area is a tourist hotspot. Our tour will take you there in comfort so you are prepared for the magnificent sights that await you. Friendly drivers provide information and knowledge on the area so you can immerse yourself in all it has to offer.
The perfect setting – from unspoilt rainforests to the mesmerising sounds of flowing water, it has it all. The waterfalls are located in the heart of the rainforest but the trek is worth it. There are stunning temples to see and villages that you will pass through – this is a tour you will never forget.
Take the tour at your own pace and explore as much or as little as you want. Take a picnic and eat your lunch overlooking the tranquil gorge where you will hear the flowing water of the river as it meanders its way along its rocky path. The birdsong will relax and rejuvenate you so take it all in because this moment will not last forever!
This is a rainforest and waterfall that gives so much to the world from the coffee and clove trees, the Sekumpul Waterfalls have everything and you can see it all.
If you are looking for a reliable tour that comes with a friendly service and a price that will make you smile then look no further. We will take care of you from the moment the journey begins to the moment we take you home.
Just remember to pack good walking shoes and if you are feeling adventurous a bathing suit and a towel so you can enjoy a quick swim.
Whether it's a unique tour of Bali's most hidden treasures or an airport transfer, you can rely on us to take you wherever you want to go