A tour to Mount Batur embraces everything Bali has to offer.
This tour will give you the opportunity to view an active volcano that is located north west of Mount Agung, Kintamani. Mount Batur has a huge caldera that is filled by Batur lake, the largest crater lake in Bali. Here you will have a great opportunity to take fantastic photos of the mountain, lake and surrounding areas.
According to Hindu beliefs this is a sacred mountain and you will have the opportunity to explore as much as you wish. The many villages and towns you pass through will allow you to meet the friendly locals and experience their way of life.
Breakfast at the summit of an active volcano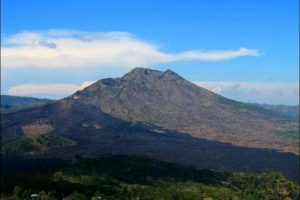 Located in Batur village, the mountain stands 1,717 metres tall. Its natural beauty and the possibilities for adventure draws tourists from around the world. A climb to the summit will leave you speechless as you see the sunrise on the horizon.
The spectacular scenery will take your breath away and the sacred earth will give you a real spiritual feeling. Settle down and take in the view as you have breakfast cooked using the steam from the active volcano. Our tour guide will explain everything ranging from the local plants and wildlife to the history.
Making your way down you will stop at a traditional Bali coffee processing plant to understand how Balinese coffee is made. Experience the numerous tropical plantations as well as sampling the coffee along with local herbal teas.
You will also be able to taste the most expensive coffee in the world.
Our tours will provide you with all you need so you can really maximise your time on the tour and your time in Bali. We will pick you up at an agreed time and take you to Mount Batur in a comfortable air-conditioned vehicle.
From rice fields to caves and lush dense tropical rainforests, this tour encompasses all that Bali has to offer and more. It is not every day that you get the chance to trek to the summit of a volcano, so book with us today.
Whether it's a unique tour of Bali's most hidden treasures or an airport transfer, you can rely on us to take you wherever you want to go