Mount Agung is shrouded in beauty and mystery giving a glimpse of what Bali is all about.
Mount Agung is the tallest mountain in Bali with the Balinese believing it is the home of their god. Located in the Karangasem Regency it stands 3,142 metres above sea level. You can opt to hike to the summit or you can choose to take in the mountain from a distance – what you make of the tour is up to you.
You will instantly appreciate the sheer size of Mount Agung but also the tranquillity it offers. This is an experience that is full of adventure as well as amazing views that stretch for miles.
A jewel in the crown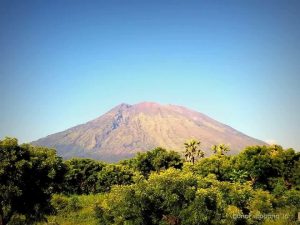 Many of the tours that take you to the summit leave during the night so you can reach the summit as the sun rises. Leaving from Pasar Agung, it can take several hours to reach the top but there are three trek points that take you to the summit.
The Pasar Agung-Telaga Mas Temple route will take you through the tropical rainforest. The familiar rainforest sounds will follow you along your journey giving you a truly holy experience.
The trek from Telaga Mas-Temple-Buffalo Stone takes around one hour and this also takes you through the mysterious tropical plantation. This trek is slightly more challenging but it is rewarding in so many different ways.
As you trek to the Buffalo Stone-Summit you will take around ninety minutes to reach the top but this is a trip that you will never forget. Adrenaline and excitement pushes you on and you will walk along the stone and sediment deposited by the volcano. Your gift for reaching the summit? The beautiful sunrise!
Our tour guide will ensure that you get as much from the trip as possible because we want to help you create memories that will stay with you forever.
Breakfast at the top will round off your trip and prepare you for the trek back down. Don't miss out on one of the best experiences that Bali has to offer.
Whether it's a unique tour of Bali's most hidden treasures or an airport transfer, you can rely on us to take you wherever you want to go